ADD THAT UNIQUE AND STYLISH ACCENT TO ANY WALL ON YOUR HOME.
Space is a challenge in most homes and if you are looking for the best way to maximize it, shelving is a perfect choice. Hanging wall shelves are the key to have a neat and organized house. 
They are functional and add esthetic value to rooms at the same time. A room with this kind of shelves inside will have a new look for sure.
Your wall will look more distinctive if you use floating shelves versus traditional shelves. They catch people's eye and make your interior design appear particularly stylish and unique.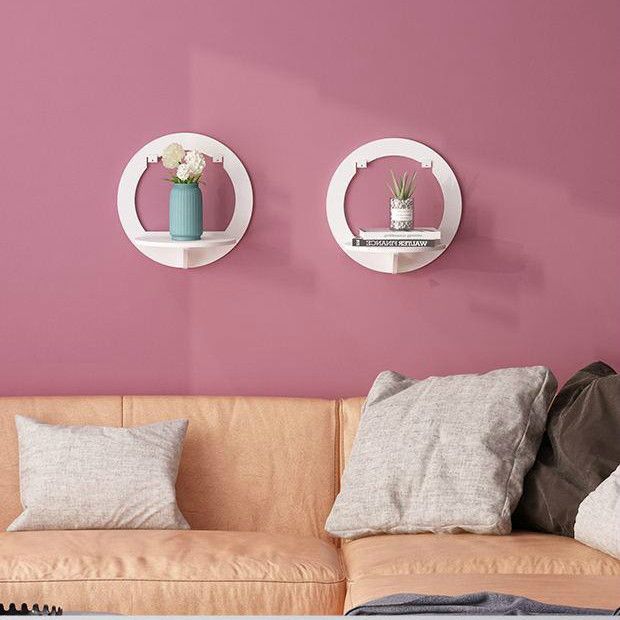 With a beautiful, simplistic appearance and minimal style, these shelves are made from lightweight acrylic, turning wasted walls into storage. Turn your clutter into decor displays and enhance your home!
Features:

Less space required: If you have a tiny nook you want to decorate, but have little room to work with, floating shelves are a perfect solution. Less space is required overall and they take up zero floor space.


Modern & Rustic Design: The floating shelves are unique and durable with their solid structures. The white finish creates a beautiful and natural-looking that will add a rustic atmosphere to your living space, and you can create a wall collage in farmhouse design with your favorite photos, art, plants, books, and more.

Easy to install: The wall shelves are thick and solid, it will be easy work to install them on the wall and get your stuff organized. The creative geometric frame allows you to freely DIY to match different decorative styles.

Light and airy: The extra space around your floating shelves will make it look lighter to the eyes and create a more airy ambiance. This is a great illusion to create, especially if you are in a small space.

Specifications:
Package Includes:
1 x Wall shelf free punching wall-mounted